Since 1966 uniting families
Our experience makes the difference.
We are a group of doctors, nurses, professionals, and Mexican workers who, with pride, passion, and dedication, uphold the name and prestige of this great company.
Marco Antonio Regil shares his experience during his residency visa application process and why he chose SMF as his consular clinic.
Marco Antonio Regil experience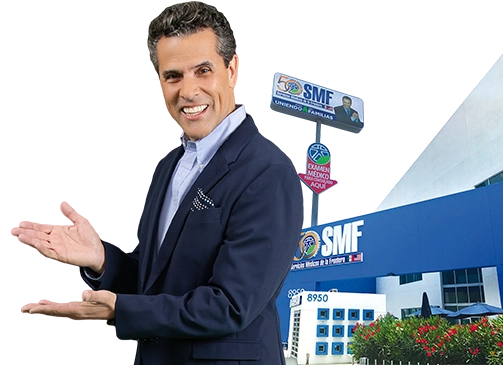 WHY CHOOSE SMF?
For more than 50 years, we have been dedicated to caring for and supporting applicants during the process of their medical examination, from the moment they schedule their appointment or present themselves at our facilities, until the moment they receive their results. Today, at Servicios Médicos de la Frontera, we proudly serve you with qualified staff, quality, and warmth. Our primary goal is to offer quality medical services that meet the standards and procedures required by the U.S. government, without losing sight of the human aspect of our work.
Compromise and responsibility
Accept responsibility for our actions. Make and support operational decisions through experience and good judgment.
Integrity
Act with honesty and integrity without compromising the truth.
Passion for results
Show pride, enthusiasm and dedication in everything we do. Be committed to design and carry out services of the highest quality.
Respect, Quality and Warmth
Treat our team members, users, partners and suppliers with respect and sensitivity; Recognize the importance of diversity. Respect all individuals and value their contributions.
Creativity
Always seek to innovate practical and comprehensive solutions for our users, giving more than what they request.